Splashdown in Duso Pond MH/*** 1/30/1998 - Feb 2013
Eye: Cerf GR-21662/2002-56
Hip: OFA GR-69215E29F-T Excellent
Heart: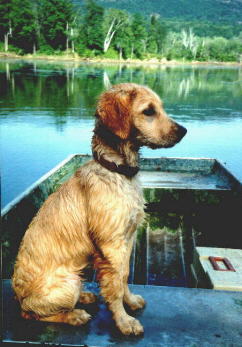 Splash is my most promising field trial prospect. She is very focused on retrieving and excels in training. Splash was slow maturing which resulted in a poor derby performance. Her Qualifying work continues to improve and is doing the big dog work.Splash won the Qual at SRRC with a flawless performance. Splash is stylish retriever with allot of punch. She is a terrific water dog. She is a small light colored golden.